Mjbizcon is the premier conference for the cannabis industry! Whether you're a seasoned professional or just starting out, this event offers many opportunities to network, learn, and stay updated on the latest trends and regulations in the cannabis space. In this blog post, we'll walk you through what to expect from Mjbizcon, from the diverse range of educational sessions and keynote speakers to the bustling expo hall and after-hour events.
Networking

One of the biggest draws of Mjbizcon is the chance to connect with industry professionals from around the world. The conference attracts a diverse crowd of entrepreneurs, investors, cultivators, manufacturers, and enthusiasts, providing ample opportunities to make meaningful connections. From casual meet-ups to structured networking events, you'll have plenty of chances to engage with like-minded individuals who share your passion for the cannabis industry.
During the conference, take advantage of the dedicated networking sessions and social events to expand your professional network. Be prepared to exchange business cards, have meaningful conversations, and build relationships that can potentially lead to collaborations, partnerships, or even job opportunities.
Remember, networking is not just about collecting contacts; it's about building genuine connections. So, be open-minded, approachable, and authentic in your interactions. You never know who you might meet and how they could positively impact your career or business.
Educational Sessions
Education is a key component of Mjbizcon, providing attendees with valuable insights and knowledge from industry experts. The conference offers a wide range of educational sessions covering various aspects of the cannabis industry, including cultivation, manufacturing, distribution, retail, marketing, and legal and regulatory compliance.

These sessions are designed to help you stay ahead of the curve and navigate the ever-evolving landscape of the cannabis industry. Whether you're interested in learning about the latest cultivation techniques, understanding the nuances of compliance, or exploring innovative marketing strategies, there's something for everyone at Mjbizcon.

Make sure to plan your schedule in advance and prioritize the sessions that align with your interests and goals. Take notes, ask questions, and actively engage with the speakers and fellow attendees to make the most of your educational experience. Remember, knowledge is power, and the more you learn, the better equipped you'll be to succeed in this fast-paced industry.


ExPO- Hall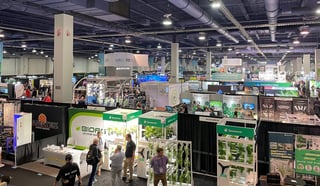 Prepare to be amazed as you step into the sprawling expo hall at Mjbizcon. This vibrant and bustling space is home to hundreds of exhibitors showcasing their products, services, and innovations. From cutting-edge cultivation technologies to the latest extraction methods, you'll find it all here.
Take your time to explore the expo hall and interact with the exhibitors. This is your chance to see, touch, and experience the latest advancements in the cannabis industry firsthand. Whether you're in search of new suppliers, looking for distribution partners, or simply curious about the latest trends, the expo hall is the place to be.
Don't forget to bring comfortable shoes and attire, as you'll be doing a lot of walking and engaging with exhibitors. Take breaks when needed and hydrate yourself to stay energized throughout the day. And of course, don't miss out on the free samples and swag that exhibitors often offer!
Keynote Speakers
Mjbizcon is known for attracting top-notch keynote speakers who are thought leaders and influencers in the cannabis industry. These inspiring individuals will share their experiences, insights, and visions for the future, leaving you motivated and inspired.
From industry pioneers to renowned researchers, the keynote speakers at Mjbizcon cover a wide range of topics, from the latest market trends and investment opportunities to the social and cultural impact of cannabis legalization. Their speeches offer valuable perspectives and can help shape your own understanding of the industry.
We're excited to announce that ThrivePOP will be a featured speaker at the Retail Session this year, where we'll be discussing how to achieve "High" results for your business. If you're attending the MJbizCon 2023 and would like more information, we invite you to visit our booth at location 6353. We look forward to connecting with you and sharing valuable insights to help your business thrive!
Regulatory Updates
The cannabis industry is heavily regulated, and staying up to date with the latest legal and regulatory developments is crucial. Mjbizcon recognizes this and offers sessions dedicated to providing attendees with the most current information on compliance, licensing, and regulatory frameworks.
These sessions are led by experts who have a deep understanding of the legal landscape and can help you navigate the complexities of operating within a regulated industry. Whether you're a business owner seeking clarity on licensing requirements or an investor looking to understand the legal risks and opportunities, these sessions will equip you with the knowledge you need.
Stay engaged during these sessions, take notes, and ask questions to ensure you have a clear understanding of the regulatory updates that impact your business or investments. Remember, compliance is key to success in the cannabis industry, so make the most of these educational opportunities.
Workshops & Panels
In addition to the educational sessions, Mjbizcon also offers workshops and panels that dive deeper into specific topics or provide hands-on training. These interactive sessions allow for more in-depth discussions and provide practical insights that you can implement in your own business or career.

Whether you're interested in learning about advanced extraction techniques, exploring sustainable cultivation practices, or understanding the nuances of cannabis marketing, the workshops and panels at Mjbizcon have got you covered. These sessions often feature industry experts who share their expertise, experiences, and best practices.


Take advantage of these smaller, more intimate sessions to ask specific questions, participate in discussions, and network with fellow attendees who share your interests. The workshops and panels offer a unique opportunity to gain actionable insights and connect with like-minded individuals who can become valuable contacts in your professional journey.


After-Hours Events
The learning and networking opportunities at Mjbizcon don't end when the conference sessions wrap up for the day. The conference is known for its vibrant after-hour events, which provide a more relaxed atmosphere for networking and socializing.

From cocktail parties and networking dinners to industry-specific meet-ups and social events, there's something for everyone after hours at Mjbizcon. These events offer a chance to let loose, unwind, and build deeper connections with your newfound contacts.

Make sure to check the conference schedule for the after-hour events and plan your evenings accordingly. Remember, these events are not just about having a good time; they're an extension of the networking opportunities offered during the day. Be present, engage in meaningful conversations, and follow up with the people you meet to solidify the connections you make.
Mjbizcon is an incredible opportunity to immerse yourself in the cannabis industry, connect with industry professionals, learn from experts, and stay updated on the latest trends and regulations. By setting clear objectives, scheduling appointments in advance, wearing comfortable shoes and attire, and developing a follow-up strategy, you can make the most of your Mjbizcon experience.


Remember, this conference is not just about attending sessions and collecting business cards; it's about building meaningful connections, gaining knowledge, and positioning yourself for success in the cannabis industry. So, embrace the opportunities, engage with others, and make the most of this transformative event!