A while back, Google announced that it would no longer process data using standard Universal Analytics properties. Now, the data will flow through Google Analytics 4. Users of the previous platform will now have to switch to this new tool, which raises concerns about their data.
This blog will guide you through everything you need to know about Google Analytics 4 and the benefits you will have when utilizing this tool.
What is Google Analytics 4?
Google Analytics 4(GA4) is an analytics tool capable of measuring traffic and performance on your site. It is designed to collect data for multiple business data types while maintaining user privacy.=
Website owners are able to see how users navigate through their sites and apps. Furthermore, GA4 also predicts new insights with machine learning technology to help you build your marketing strategy.
Benefits of using GA4
Google Analytics 4 comes with a number of benefits that will aid you in monitoring your websites and apps. Here we will list a few of the benefits that it has:
Automated tracking
Predictive metrics
Predictive audiences
Anomaly detection
Higher data collection limits
Superior funnel analysis
Better user privacy options
These are just a few of the benefits of Google Analytics 4 and why people are happy to have switched to this new tool. Implement it to your campaign and uncover its full potential.

Universal Analytics vs. Google Analytics 4
When you start using GA4 after Universal Analytics, you will notice that things look really different. The reports that were once there are now gone because GA4 allows for customization, so you can choose what will pop up in your main dashboard. Below we will discuss some core differences between GA4 and Universal Analytics.
Main differences
As stated above, the first difference you notice is that GA4 is extremely customizable compared to Universal Analytics.
However, there are other core differences between these tools that you can use to your advantage:
GA4 tracks events instead of sessions or page views. You will be able to define which types of "events" are most important to your business.
GA4 supports full cross-device and cross-platform reporting. This allows you to track how all users interact with your app or website, giving you a clearer picture of marketing impact.
GA4 leverages automation and AI to provide predictive analytics. Businesses can use this for forecasting and finding new audiences.
These are the big differences that you will notice, but there are several other ones you will learn about as you use GA4 more and more.
Reasons to Migrate from Universal Analytics to GA4
The core differences between these two platforms are also some of the reasons why you should switch from Universal Analytics to Google Analytics 4. Thanks to GA4 using machine learning, it will provide smarter insights from the data it collects. As mentioned above, GA4 event tracking gives even more flexibility and accuracy when tracking user behavior.
Besides having a better tracking system, GA4 has improved data privacy and security, giving businesses better control over their data and easier compliance with privacy regulations.
When Should You Migrate Your Account?
Your data won't transfer from Universal Analytics to Google Analytics 4, so you should start migrating to GA4 as soon as possible. Make sure you use the setup wizard but also manually go through your tracking tool to create new events in GA4.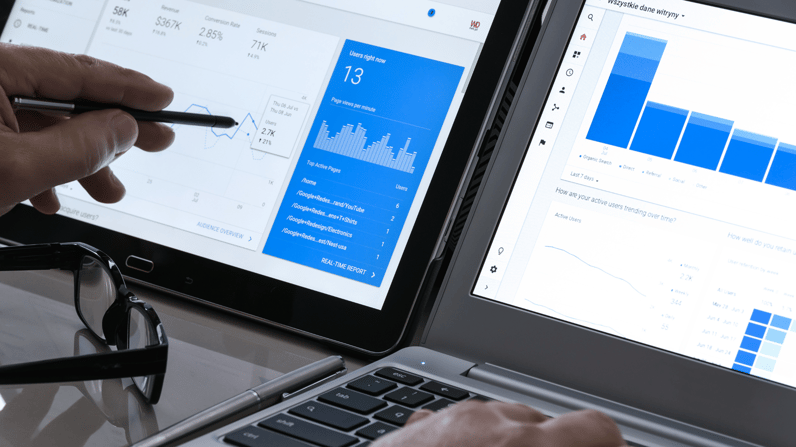 How to Set Up Google Analytics 4?
After listing the benefits of using this new tool, we will give you a quick overview on the first steps you need to take to set up GA4.
Create a Google Analytics 4 Property
Before you start, you need to have a Google Analytics account.
Go to the Google Analytics website (analytics.google.com) and sign in with your Google account.
Click on the "Admin" tab in the lower-left corner.
Under the "Property" column, click on the dropdown menu and select "Create Property."
Follow the prompts to set up your GA4 property, providing information such as the property name and reporting time zone.
BigQuery Set Up
Setting up this feature will help you store any long-term historical data. Before linking this data stream to your GA4 account, ensure you have already set up a project for your site. After you have done this, follow these steps:
In the "Linking" section, locate and click on "Link BigQuery."
Look for the blue "Link" button and click on it.
If you can't find your Project ID listed, you may need to search for it. Click on "Choose a BigQuery Project."
Select the appropriate BigQuery project from the available options and click "Confirm."
Choose the data location that corresponds to your GA4 property name.
Select the desired data streams and frequency. It is recommended to keep the frequency set at "Daily."
Finally, proceed to the next step, where you can review and submit your data. At this point, your Google account will be visible on the BigQuery Linking page.
Link Your Existing Accounts
Apart from connecting BigQuery, it is also necessary to establish a connection between your Google Ads accounts. This step enables your business to benefit from GA4's advanced features of integrating and reporting cross-platform data.
Your Marketing Agency of Choice
ThrivePOP is happy to be a part of your marketing team. We create unique marketing strategies tailored to your business, using the latest tools to help you grow your business in the way you want to. Let us join forces and take your business to the next level. Contact us today!